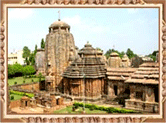 Lingaraj temple is one of the most popular temples of Orissa.

The temple is dedicated to Lord Shiva, also known as 'Lingaraj'. It is adorned with beautiful sculptures, which have been carved on the spire. Lingaraja temple is approximately 54.8 metres high and enshrines a huge statue of Lord Shiva, made up of granite. The idol is 8 feet in diameter and is placed on a platform that is about 8 inches above ground. The deity is bathed everyday with water, milk and bhang (marijuana).

History of the Temple

Lingaraj temple of Bhubaneswar is believed to date back to the later half of eleventh century. However, some people are of the belief that, some parts of the temple have been there since the sixth century. It is also said that the temple was constructed by Jajati Keshari, the SomaVanshi King. However, there are no historical records to authenticate the claim. The high walls of Lingaraja temple, that have been made by using solid red sandstones, lend it the look of a fortress, when viewed from outside.

On the eastern side of the temple, lies its solitary entrance point, which is commonly known as the 'Simhadwara' or the 'Lions' Gate'. One of the oldest temples of Bhubaneshwar, Lingaraja has 150 smaller shrines inside its huge courtyard. Lingaraj temple is basically made up of four parts, namely the main temple, the 'Yajna Shala', the 'Bhoga Mandap' and the 'Natya Shala'. Along with Lord Shiva, it also enshrines Lord Vishnu, in the form of Saligramam idol. The main gates of the temple have Lord Shiva's Trishul on one side and Lord Vishnu's Chakra on the other

Its tower, dominating the surroundings, is visible from miles around. The temple, set in a huge walled compound measuring 520 feet by 465 feet, originally consisted only of the sanctum and the mandap or the entrance hall. The dancing hall and the hall of offerings are later additions. Around the main shrine there are many smaller votive shrines. The outer walls of the temple are lavishly decorated with beautiful sculptures which mark a climax of Hindu decorative architecture. Birds, beasts, creepers, flowers, men and women in erotic poses and postures, a host of gods and goddesses all are there in their full majesty and grandeur. The inner walls of the shrine, containing the phallus symbol of Shiva, are plain and without any embellishment. Just north of this temple is the sacred lake of Bindu Sagar with a tiny island in the center, where there are many lesser shrines. Here, once in a year, Lingaraj himself is brought for ritual ablutions.